Amazing Features
Video Conferencing Platform
We've been working really hard to provide the best experience to users with VIDEOMEET HD video conference where users can do one to one and one to many audio and video conferencing.
Easy To use
Download the app from playstore/appstore, share your email address/ verify code from email and enjoy services.
Awesome Design & UI
Awesome Design and UI to create, delete and manage groups.
Unlimited Features
Host, Panelist, Participants role along with Screen Share and Streaming.
Video Conference Feature

Branding
Customize meeting room with your logo and color combination to reflect your own brand.

Screen Sharing
Share entire screen for more interactive meetings.

Recording and Playback
Record meetings or playback so that no one ever has to miss a meeting.

Live Streaming
Go live Via Facebook/ YouTube/ to your custom server.

Password Protected
All meetings are password protected.

Waiting Room
Security to ensure that your meetings are protected and include only the desired participants.

No sign-up required to join a meeting
User can join the meeting by only clicking on a link or by entering his/her name and room name.

Embedded with API
Integrate video conferencing in your own software solution/mobile app.
Personalized meeting
room name
A virtual meeting room that is
permanently reserved for you.
White Label Branding
Brand meetings with company
logo and personalized background
Design Meeting rooms
Design virtual meeting rooms and
hold better video virtual meetings.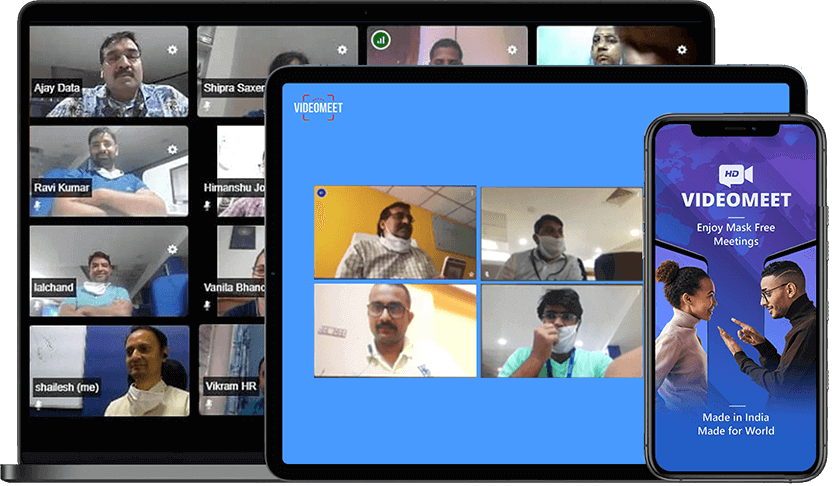 Host Control
Manage video
quality /resolution
Video resolution HD/ SD/ LD
Backstage
Bring speakers to backstage to provide technical support to move them to main room.

No technical prerequisites
required to join
Why VideoMeet
VideoMeet allows users 'Easy and Secure' access with:

Completely secure with end-to-end encryption.
Personalized Meeting Rooms.

Simultaneously Screen sharing.

Participants can join from Mobile, tablet, and on their Desktop.

Options that allow you to schedule, start, or join the meeting.

Upload Document.

Individual/ Group messaging during the call.

Automatically Suppress Background Noise.

Reactions.

No Sign up required to join a meeting.

Document Sharing.

Record your meetings/ sessions.
Cloud Recording
There is 1GB/mo of cloud recording storage included in a VideoMeet Account and more
storage by selecting one of the options below.